No livestream. Reflect on the last hours of Christ's life through song and prayer as we travel to stations in our building and outside. All ages welcome; no childcare.
Meet with a pastoral leader who will lead you through a brief liturgy. Anyone is welcome, including children.
Upstairs offices. No sign-up required.
Livestream: 7 pm only. Our Good Friday service testifies to how Jesus' sacrifice can free and heal us. Enter into events of the crucifixion with a dramatic reading of the Passion. Worship with our musicians as you wait to approach our large wooden cross, where you may kneel and/or pray. Childcare available for ages 0-5 at 3pm only.
Every Lent, Resurrection gives a financial gift to a global partner. This year, we are partnering with Mark and Cindy* to strengthen their outreach in a strategic location of the Middle East.
AT HOME:
PREPARE + PARTICIPATE
On Good Friday, we tell the story of the Passion of Jesus as we remember the love of God that was demonstrated by Jesus' sacrifice on the cross for the forgiveness of sins.
During the service, move the cross from where it has been throughout Holy Week and lay it on the floor in the center of the room where you can kneel next to it to touch it and pray. 

Give online to Good Friday Gift
At home:
Stations of the Cross

In this ancient devotional service, we walk with Christ through the last hours of his life, reflecting on his sufferings, death, and burial through reading the Bible, music, and prayer. The stations are traditionally prayed between 12pm – 3pm, the hours when Jesus hung on the cross. This year our stations will be led outside at regular intervals from 12pm – 2:30pm.
1 cross to gather around, 1 cross for each person to hold as you walk, or 14 crosses placed throughout your home, yard, or neighborhood. 

The crosses could be as simple as a cross drawn on paper or wooden crosses that you make.
Use the guide to walk around your house, yard, or neighborhood, stopping in a new place to pray through each station.
Coloring page and story summary
VIDEO ACTIVITY:
Make cards for the kwashi kids
RezKids are making cards to send to the "Kwashi Kids," former orphans who will receive a home through your generosity to Good Friday Gift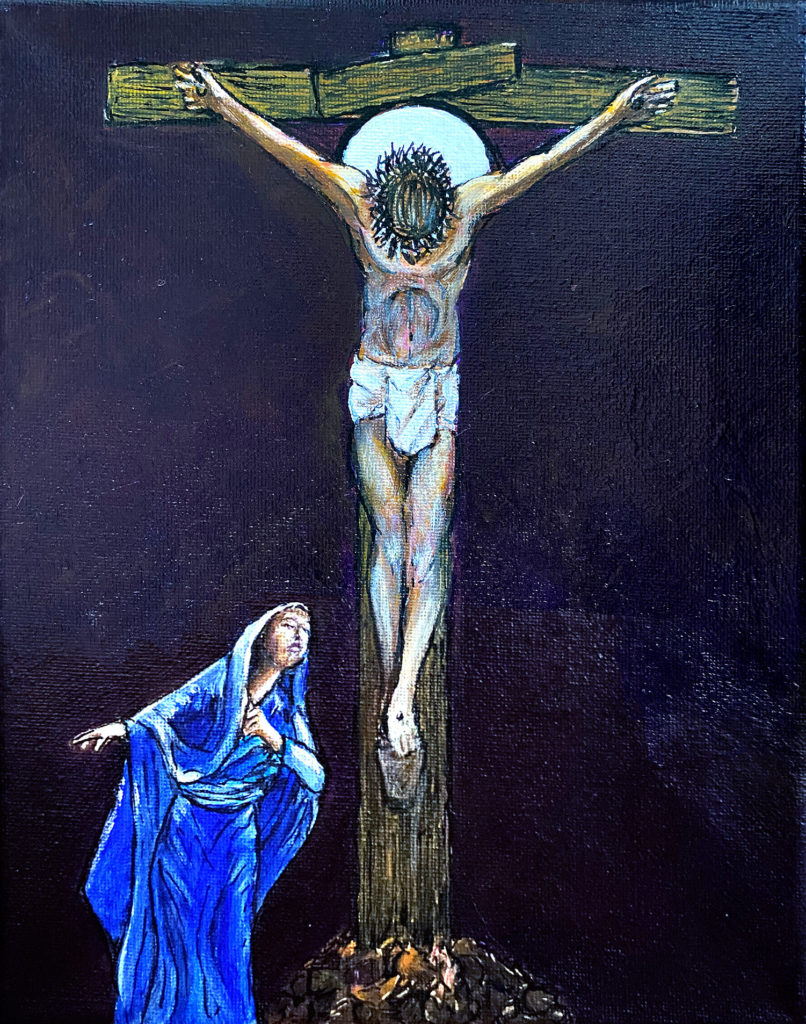 Original painting by Resurrection artist Michael Skura depicting Mary at the Cross of Christ. (Image copyright: Church of the Resurrection)
Copyright 2019 // Church of the Resurrection