By Addie Gannon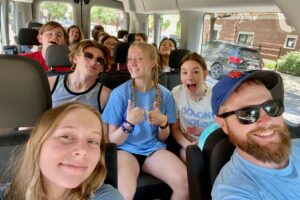 Fifteen high schoolers and I piled into a van to embark on the RezYouth Mission Trip over the Fourth of July weekend. We encountered the uniting power of community in three wildly different contexts: Little Village, Austin, and the West Loop. 
Our goal was to think like a missionary by asking questions like, "Who lives here? What are this community's strengths? What are its challenges? How does the gospel speak to both?"  The strongest communal roots were evident in Little Village, or La Villita, as the vibrant Latino community lovingly calls it. Customers weave in and out of storefronts that flaunt colorful window displays, and the smell of fresh fruit wafts from corner street vendors. People know they are home; they belong in this neighborhood in a way I don't feel walking down Main Street, Wheaton. 
Pastor Marco Guzman of Aviva Church, a missionary from Mexico, explained people are friendly and cultural pride runs deep here, but the community remains disconnected without common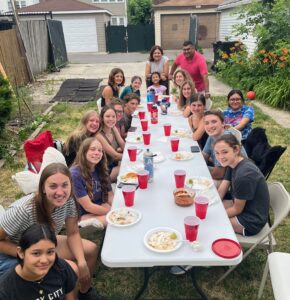 vision or faith. He and his family are building a culture of hospitality and intentionality by cultivating relationships and modeling what life together in Jesus Christ can look like. We entered into this vision by playing soccer and blowing bubbles with neighborhood kids in the park on Friday and Saturday afternoons. The bonus: homemade tacos, quesadillas, and more in Pastor Marco's backyard. Hospitality doesn't have to be grand, just genuine, to be effective. 
After leaving our new friends in La Villita, Pastor Michael Wright warmly led us on a walking tour of Austin, a predominantly Black neighborhood where Christ Tabernacle Church sits. He described some of the area's economic hardships, challenging our students to consider the complexities of poverty. Most people in the neighborhood rely on section 8 housing, without which 80 percent of the neighborhood would be homeless overnight. But that very housing benefit contributes to a cycle of poverty that repeats across generations, he explained.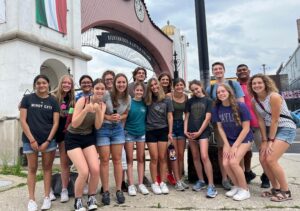 As we walked, Pastor Michael noted various people watching us. A big group of white students is not a normal sight in his neighborhood. We stuck out and sensed that we didn't belong. 
But inside the brick walls of Christ Tabernacle, we felt at home. Hope was palpable in the rich, bellowy gospel worship sung by these brothers and sisters. I am grateful for those who eagerly invited us into their stories and hearts. The bonds of Christian fellowship exceeded the division we felt between our cultures. The power of the church, unified in Jesus, enables us to create community amid hardship.
In the elite West Loop, we noted the least material need but the greatest poverty of soul. Connection between independent, artsy young professionals is almost nonexistent. While the neighborhood boasts Chicago's best restaurants and high-end clothing boutiques, it holds only two churches. We felt a sense of urgency and desperation for the inbreaking of hospitality and community where outwardly successful people trapped in inner darkness can come alive, known and loved. During a silent prayer walk we pleaded for gospel hope to break down walls and invade the city streets. Especially when family culture is absent and church culture is nominal, we learned that opening one's home as a sanctuary for fellowship can be vital. 
I thought we would leave Chicago feeling called to return to the broken and beautiful city, ready to serve. Instead, we were urged to notice and pray for the needs in our own context. RezYouth leader Caleb Karnosh suggested that service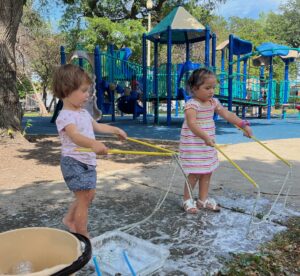 entails a humble entering into others' stories and experiences based on Christ's modeling. Thus, how I engage people and cultivate community where I am planted in Wheaton matters for the sake of the gospel. 
Each of us has a mission in our current context, and we are called to love and serve others with our unique gifts and personalities. Where are you called to bring the hope of the gospel? How can you serve others through hospitality and friendship? I am excited to witness the transformation that will happen when we all, alongside our high schoolers, learn how to think like missionaries. Our contexts may vary, but we share one goal: to spread the love of Jesus through the power of community.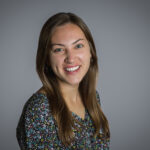 Addie Gannon is the Production Manager at Resurrection, as well as a violin teacher and RezYouth leader. She is passionate about cultivating community and belonging in each of these contexts.