By Ashley Kiley
There is nothing more disequilibrating to me than seeing colored pencils in the center of a room. Fear, insecurity, and shame all quickly rise to the surface as memories of past experiences cause me to shut down. Simply put, to be asked to participate in a "stupid art project" is about as far outside of my comfort zone as I can get. 
However, over the past few years, the Lord has been pushing me to engage. To trust that he is not concerned about the end result, but he is simply asking me to enter into the process. And, to my surprise, each time I have leaned in to use art as a form of reflection or worship, the Lord has met me in it, through revealing more of himself.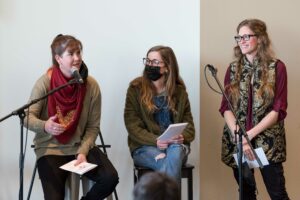 So, when my friends Lindsey and Betsy conspired behind my back to come up with a project for us to do together, my initial reaction was "No thank you, but have fun!"  Yet deep down, I knew this was an opportunity to lean in to my fear, not stress about the quality of the work we would produce, but to approach this communal project with open hands.
Initially, I was skeptical that they would be able to come up with something that I would actually enjoy participating in. I fully intended on sitting on the sidelines and watching my insanely artistic friends create a masterpiece. Once they explained that we would be playing with paint, I let my guard down a little bit. And especially when I saw how little control we truly had in where the paint was going on the canvas, I got even more excited. The idea of using the seven days of creation was a perfect structure for us to begin thinking about how to convey the meaning behind each day. By the time we were working on the first canvas, I was hooked. I had ideas on color selection and was guiding the paint along the canvas. I was part of the team, creating. With each canvas we created, I leaned in a bit more and loved collaborating with my friends. By the time we were on our final canvas, we were sitting on the ground, covered in paint, having to work as a team in order to move the paint across a massive canvas. We could not finish that final canvas without each other. 
When I reflect back on that evening, I am so grateful for the friends I had to journey alongside me, to encourage me, and help me to enter in, where my fear and insecurity would normally have left me sidelined. Creating together was a sacred moment. It was an act of worship. It allowed me to see a picture of how we can come alongside one another and lead each other into the presence of the Lord. 
For the first time in my life, I am proud of the work we created. We enjoyed reflecting on what it means for our God to be a creator and it allowed us to further unpack the significance of the creation account, seeing it in a new light.  Especially when we used the seventh day as both sabbath rest and Easter celebration, we saw the redemption of the Lord's relationship with his creation through the resurrection of Jesus Christ. 
All in all, we had a blast together, creating something that reflects our Creator and his joy in his creation.
Ashley Kiley serves as a RezYouth leader. She is camp programs director for HoneyRock at Wheaton College. 
>View Ashley, Betsy, and Lindsey's finished work, "Restorative Hope," here. 
>You're invited to participate in this year's RezArts Festival! Learn more here.