A passing greeting, you ran by
Delivering a meal, though short on time
I don't recall your name, only your hair and eyes
And after all this time, your heart so kind
Clearly extended toward this new mother and child
Your chosen grace was practical and quiet
A moment's nourishment to folks so tired
I don't recall your name, but you knew mine
And hours later, still your warming smile
Remains and brings new joy without the pride
Even in haste, you took the time
To greet me as one dignified
Ruthie Harrison
August 18, 2022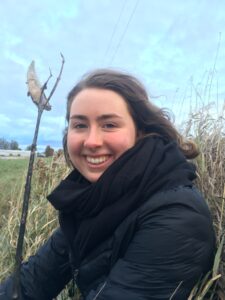 Author comments:
 This moment was ordinary, and such a clear image of the work of the church alongside God's quiet work in souls. I wanted to remember it. It had been a hard day, I was taking out the trash, and this woman's greeting deeply moved me. She gave me peace and reminded me that Jesus works through people even when we don't realize it at the time. Things we don't remember often touch others and name us in the end.
I know her name now, but I think this poem is for all of us.
Ruthie has attended Rez for about eight years and is a sophomore at Wheaton College. Nowadays she spends a lot of time outside, with friends, or learning to play the viola for the first time.