March 21 Update: We are still working toward a full resolution to this situation. Until then, a police officer will continue to be present during worship services in order to de-escalate any potential disruption. Please continue to pray for the parishioner's healing and restoration.
Dear Resurrection,
This Sunday, you may notice a police officer present at the church building. This precautionary measure is due to a current parishioner who is experiencing a mental health crisis. On Tuesday, they had a threatening altercation with one of our pastors in the presence of several staff. We have asked this person not to come to the church building for the time being. We are taking additional precautions to minimize the possibility of disruption during our services.
This person's behavior has been directed toward a specific pastor, and we have no evidence that suggests any danger to others. Police officers are trained to safely de-escalate situations and resolve any potential disruptions as quickly as possible.
Our hearts break for the complex pain that this parishioner is enduring now. Please pray that the Lord will heal and restore them.
With love for all of you,
Steve+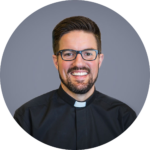 Fr. Steve Williamson
Cathedral Dean