God has a straightforward plan to bless the world: by sheer grace, he saves and gathers people who then turn around and bless the world in his name. Since the time of Abraham, God has blessed his people so that we might bless those who do not know him (Gen. 12:1-3). That calling can seem daunting, so this summer and fall we're inviting you to consider two simple ways to see, know, love, and start to bless your neighbors.

First, develop a neighborhood map. Draw (or sketch or even scribble) a simple map of your neighborhood, noting who lives in each house (adults and children). This will help you with the second simple way to love your neighbors. It's amazing how people can live beside each other for years and not know each other's names. Here's my neighbor map. As you can see, I've made some progress, but I still have a ways to go.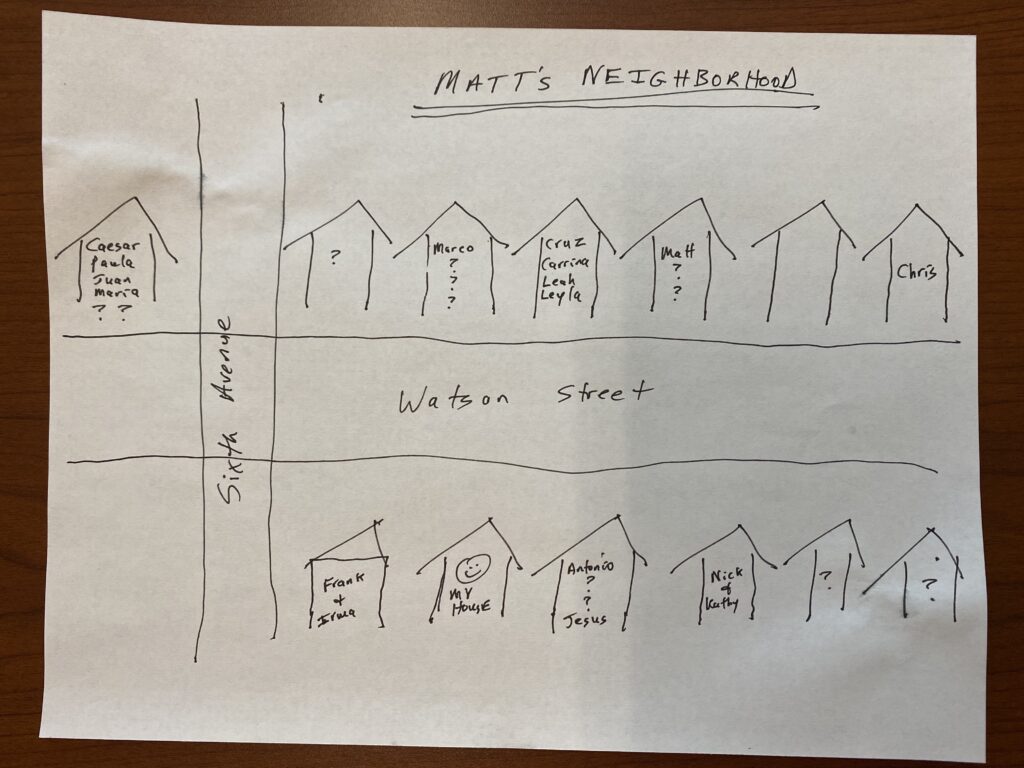 B.L.E.S.S. is a way for a follower of Christ to consider all the ways I am called to show love to my neighbors. Here's a description of each of the letters in the acronym:
B = Begin with prayer. Start praying for your neighbors. Pray for their marriages and children. Pray for their spiritual lives. Pray for openness to the gospel if they are not believers or for spiritual growth in Christ if they are believers.
L = Listen. Ask questions. Display curiosity in their lives and experiences and opinions. Be genuinely interested in the lives of your neighbors because they are people made in God's image and loved by Jesus. Listen for evidence of God's work in their lives.
E = Eat together. This may be harder in COVID days, but I am trying to plan a block party for my neighborhood. It will be the first block party in my neighborhood in over 30 years.
S = Serve. Be attentive to opportunities God provides you to care for people and attend to their needs.
S = Share your story. As you build genuine friendships, feel free to share your story of how Jesus is transforming your life and the world.
Jesus walked and talked with people along the worn, crisis-stricken roads of Galilee, Samaria, and Jerusalem—and all the nowhere places in between. He learned their names, he talked with them and ate with them, and he loved them right where they were at. 
My prayer for us during this highly unusual summer is that we too would intentionally seek to love and bless the real people along our own streets. Yes, I know that the word "evangelism" can seem scary. But evangelism doesn't have to intimidate us—reaching out can start really small, even at your own kitchen table, with a map of names… or across a fence, six feet apart.