Dear Resurrection Family, 
For over a year, we have been walking through a challenging season of waiting on the Lord. We have been without our beloved Bishop Stewart since July 8, 2021, when he began his voluntary leave of absence to assure transparency and to make way for the GRS investigation initiated by our Diocese. After Bishop Stewart's leave began, the Diocese asked the Province to take oversight of the investigative process. Husch Blackwell was selected to continue the comprehensive review of how our Diocese responded to allegations of sexual abuse by a lay leader of a former diocesan congregation. (For more background, see these FAQs)
During Sunday services, we have been praying for a swift conclusion to the investigative process, as well as restoration and healing for everyone involved. Now I am hopeful that closure on the investigative process is coming soon.
Last week, the ACNA provincial office communicated that a report from Husch Blackwell will be released within the month. In anticipation of the report, I want to address next steps for us at Resurrection in two ways:
A

picture

of what happens after the investigations 

A pastoral call

for how we can walk this road together
A PICTURE OF WHAT IS COMING
It is important to note that the report will not determine what actions need to be taken. Discussions between provincial and diocesan leaders will commence after the release of the report. 
I know the idea of any additional time needed may be challenging. Let me clarify a few things that may help through this final stretch of waiting.
In March, Fr. Matt, Fr. Brett and I stated our full trust and support for Bishop Stewart. That conviction has not changed. Nothing we know contradicts the godly leader and shepherd we have known him to be for decades. We trust his integrity, his humility, and his competence as a leader and a follower of Jesus. I remain hopeful for the end of this process.
I can promise you that our leaders are extremely invested in seeing these final steps happen as quickly and fairly as possible. We, as Resurrection leaders, will stay highly engaged with leadership in our Diocese and Province.
If the Diocese or Province have any suggested changes or corrections for us at Resurrection, I can assure you we will seek to respond with humility. If this process bears the fruit of strengthening our church in any way, we will rejoice in that fruit. I know from my conversations with Bishop Stewart that he feels the same.
In the meantime, we are proactively working on improving our existing policies and training, which you will hear more about in the very near future. We remain steadfast in our desire to care for and protect every person who enters our church.
We are very committed to the important process of healing that our church will need in the days ahead. That process will necessitate opportunities for you to hear from us as your leaders – any needed responses to the reports as well as information we have been unable to share during the investigative process. We are also planning in hope for a time to reconnect and hear from Bishop Stewart and Mama Katherine. Venues will also be created for us to hear your questions and concerns. More information about all these important moments will be given as soon as possible after the release of the report.
A PASTORAL CALL FOR RESURRECTION
I want to ask some things of you, Resurrection, as we step into the last leg of our journey. 
First and most important, I am asking you to pray! Please continue to pray for the healing power of Jesus to come to all survivors of abuse. Pray for wisdom, courage, and discernment for our provincial and diocesan leaders. Pray for the ongoing trial of Mark Rivera–for justice and healing. Pray for a quick release of the reports and resolution thereafter. Pray for strength and encouragement for the Ruchs in this uncertain time. 
Next, I ask you for your patience. I have been incredibly blessed by the prayerful patience this church has shown for several months now. Please remain prayerful after the release of the report. Information will precede decisions. Time will be needed to read all the information and initiate conversations with our diocesan leaders before I have information for you. Our leaders will not be able to enter immediately into detailed conversations about the report. Please refrain from emailing your concerns and questions before we have a chance to update the entire church after the release of the report.
Finally, let us all seek to walk through the season ahead in Christian love toward one another. In particular, I encourage you to go out of your way to display love for:
Any survivor of abuse, especially those who are awaiting the outcome of the trial with great anticipation. If you know anybody personally, reach out with acts of love and support. Otherwise, keep them in your daily prayers.

Stewart, Katherine, and their kids, who continue to need to know our love and support. To that end, we are placing a basket in the narthex where you can drop off personal notes of encouragement. Or you can simply reply to this email with a note, and we will ensure it gets to them.

Our clergy, staff, and leaders. I've watched them serve this church so well, and I know they are very weary after the last 16 months. Would you continue to show your love and care for them in the days ahead?
Jesus, our Good Shepherd, has led us faithfully through this valley season thus far. We can remain steadfast in our hope that his faithfulness will continue in the days to come.
With love for all of you,
Steve+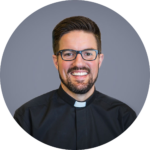 Fr. Steve Williamson
Cathedral Dean
Top photo by David Dibert