*TRIGGER WARNING*
Dear Resurrection Parents, 
I want to make sure that you saw my letter last week about a publicly named attendee who is a registered sex offender (RSO). (You can find it here.) As a fellow parent, our children's safety on our property is both critical and very personal to me and other pastors whose children are deeply involved in the life of our church.
I want to take some time to address some of the concerns and questions you may still carry after reading my first letter.
As I wrote in that letter, it is not our policy to inform the congregation of a parishioner's past criminal actions. When information was made public and lacked various details, I chose to communicate about this particular situation because questions were raised about the current safety of your children.
We are living in unique circumstances in which people outside our church are publicly commenting on our pastoral care. I realize the challenges and concerns that dynamic has raised for you. I am sorry for the moments in which you have felt that my public response does not resolve all your concerns. I encourage you to reach out to a pastor with any remaining questions or concerns.
To that end, here are some questions you may have that I would like to answer as a parent:
Will you allow additional RSOs to attend the church? 
The attendance of additional RSOs at Resurrection would be very limited, as it requires a lot of careful planning and oversight for one single person. Any future request would be considered only on a case-by-case basis in consultation with outside organizations and experts, the RSO's parole officer and therapist, and with the agreement of our pastoral staff team that we have the resources and trained chaperones to maintain careful oversight over him/her. Here is our current working policy.
If so, will you publicize their presence?
It is not our practice to publicly inform the congregation of a parishioner's (attendee) past criminal history. We have consulted with various specialists on this question and determined that any disclosure on a broader level must be carefully considered on a case-by-case basis.
How are the chaperones trained?  
The two chaperones have extensive experience in prison ministry and are trained to oversee the process of safely involving ex-convicts in the life of the church.
How do I know that my children are safe at Resurrection? 
It will always be a top priority to keep our children as safe as possible in our church. Our most important tool to accomplish that is our Child & Youth Protection Policy. It takes a community to help implement and ensure these safeguards are in place. I encourage every adult to carefully review this policy, which includes important information about our screening and training protocols, definitions of grooming behavior, and our reporting policies and expectations.
Please do not hesitate to reach out to me or Pastoral Care Pastor Meghan Robins at meghanrobins@churchrez.org if you have any further questions or concerns.
With love,
Steve+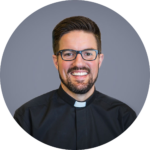 Fr. Steve Williamson
Cathedral Dean