Dear Resurrection,
I am delighted to announce that Matthew Prechter, who has been serving as our Interim Director of Elementary Ministry, has accepted the role as our new Children's Pastor.
It's been a joy to watch Matthew's pastoral leadership grow and flourish in his time at Resurrection. After completing a residency in RezYouth, he has served in
ministry to our Elementary children for the last two years. I love Matthew's heart for our children and his passion for teaching God's Word. I know he will continue to bless our church in this new leadership role.
Prior to Resurrection, Matthew worked with children and youth in Germany. He has an M.A. in Divinity from the University of Chicago Divinity School and a B.A. in Theology from Wheaton College. He and his wife Christina (Festen) reside in Glen Ellyn with their two young boys. You can learn more about Matthew here.
In addition, I am pleased to announce that Christina Westberg has become our new Children's Director. She will continue to provide pastoral care and leadership over our preschool ministries. Christina joined our staff as Children's Ministry Manager in 2020 and has served as Interim Director of Early Childhood Ministry until now. She will partner with Matthew and provide support in his new role. Christina's gift of encouragement and deep heart for young children will continue to bless our church. You can read more about her here.
Amy Patton, who stepped in to serve as our Interim Children's Pastor, has now completed her time on staff. We are sad to see Amy leave our staff team, but she and her husband Ryan, along with their four energetic boys, will still be here at Resurrection. I want to thank Amy, once again, for blessing the church with her servant-leadership, coaching, and pastoral gifts.
Please join me in congratulating Matthew and Christina when you see them. Pray with me for the Lord's outpouring of joy and strength over them in their increased responsibilities.
We remain committed to the vision of RezKids to shepherd our children into a closer relationship with Jesus and his church.
With love for all of you,
Steve+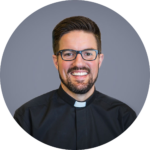 Fr. Steve Williamson
Cathedral Dean