Theme: "My sheep hear my voice"
We invite you to contribute to our RezArts Festival, a church-wide celebration of art this winter. Whether you're age 5 or 95, a beginner or experienced artist, you can participate. 
Our theme this year is Jesus' words "My sheep hear my voice." This theme is drawn from the final verse of the Venite, the Call to Worship in Psalm 95, recited every day in morning prayer (see The Book of Common Prayer 1979).
"Come, let us sing to the LORD;
   let us shout for joy to the Rock of our salvation. 
Let us come before his presence with thanksgiving
   and raise a shout to him with psalms.
For the LORD is a great God, 
   and a great King above all gods.
In his hand are the caverns of the earth, 
   and the heights of the hills are his also.
The sea is his, for he made it,
   and his hands have molded the dry land.
Come let us bow down, and bend the knee, 
   and kneel before the LORD our Maker.
For he is our God, 
and we are the people of his pasture and the sheep of his hand.
   Oh, that today you would hearken to his voice!"
This psalm was likely one of the scriptures on Jesus' heart when he proclaimed  "My sheep hear my voice" (John 10:27).
We invite you to reflect on Jesus' words against the background of Psalm 95 and to listen for Jesus' voice.
Consider your identity as God's creation, as a member of Jesus' flock. How are you hearing the Lord in this current season of our church life? What are you hearing from him? What do you desire to hear from him? Ask the Lord to help inspire your creation of original visual, written, or musical pieces. You might consider what imagery, tunes, or words communicate what you believe the Lord is speaking to you and to his church. You might seek to express the church's need for the Good Shepherd's care or offer thanksgiving for his leading. Your work does not need to directly represent the theme or Scripture verses. We trust the Lord will work with you through this process.
The act of creating art can be one of worship and prayer as you submit your creativity to the Lord. As our Creator, the Artist of the universe invites us to be co-creators. While your finished art may or may not be a masterpiece, it can help others better appreciate the Lord's heart for his people. Even if you don't consider yourself an artist, we invite you to try your hand at creating art as an act of worship. You may ultimately decide not to submit your work to the Festival, but do consider participating in the creative process with this focus in mind. 
We hope to see a reflection of how the Lord is leading you and our church body in this particular season. Thus, all submissions should be new creations made during the festival in order to reveal the Lord's leading for this time in our Body.
We will share select submissions online and on social media throughout the Festival and beyond. The Festival will culminate with a Gallery Exhibit of all family-appropriate submissions. This will be open to the entire church on Saturday, January 28. Visual artwork will continue to be displayed as much as possible in the building until Lent.
Enjoy The 2022 Exhibit Online
You're Invited to the Festival Workshop Night
Jumpstart your creativity on Wednesday, January 5, 6:30-8pm.
Try a workshop in creative writing, visual arts, or worship song writing.
RSVP below by January 2.
Refresh and reinvigorate your creative life by discovering new tools and spiritual practices for writers of all kinds and levels of experience. This workshop will include hands-on writing time, as well as the opportunity for small group sharing and mutual encouragement. Minimum age: high school.
Facilitator: Nicole Mazzarella's 
published works include: the award-winning novel This Heavy Silence, short stories, flash fiction, a documentary, and short films. She has taught creative writing for over 20 years and her specializations include cultivating habits of creativity, writing in the midst of personal challenges and suffering, and engaging in spiritual practices that nourish the artistic life.
Enjoy experimenting on paper with the Lord. We'll provide brushes, paints, and materials to spark your imagination and make your fingers itch. 
Stations will include mindful drawing, collage creation, and free expression. In mindful drawing you'll learn how to pay attention to details as you create. Make a collage by combining colorful construction paper, printed words, cutouts of pictures, and more. Or, at the free expression station, dive into anything you feel led to explore. 
Minimum age: first grade; all elementary age kids must be accompanied by an adult.
Facilitators: Janice Skivington Wood and Emily Verdoorn.
Janice Skivington Wood is a painter, illustrator,
 and former art teacher. She has collaborated with various artists to develop liturgical art that adorns Resurrection, including the large Jesus icon, the great doors, paintings depicting Old Testament scenes in the narthex, and more.
Emily Verdoorn uses anything from
pen and pencil to teabags, inks, thread, or homemade dyes to explore the world of her everyday life. Her work often begins like a quiet conversation with places, spaces and the natural world.
Have you ever wanted to write music for a congregation but don't know how to get started, or how to turn an idea into something that actually works in a worship setting?  This workshop will be a fun, helpful, and collaborative opportunity to take your worship song writing to the next level! We'll chat about some basics and then have a chance to break into partners or groups to practice skills in a safe and creative environment. Both English and Spanish speakers welcome! Minimum age: 16.

Facilitator:
Pastor Bonnie McMaken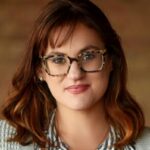 has been leading and writing songs for worship for many years. She and her husband Trevor pastor our sister congregation,
City of Light Church
, in Aurora, where they live with their four children. 
Such as drawing, painting, photography, pottery, sculpture, textile, crafts and digital art. Artwork that will be physically displayed in its original medium cannot exceed 3 feet by 3 feet.
Such as poetry, short stories, personal essays, flash fiction, devotionals, monologues, and scenes. Length: 1,500 words or less.
Voice and/or instrumental. Length: 4 minutes or less
All submissions must be original works, previously unpublished and/or not performed publicly, and may not have been shared online or on the artists' social media. 
Submissions should be new creations made during this particular season in order to reveal the Lord's leading during this time in our Body.
Participants must be  regular attendees of Church of the Resurrection over the last three months.
Each person or group may only submit one entry per category, up to three entries total. 
Group submissions are allowed if all individuals are active attendees or members. 
All entries must be submitted online by midnight CST, Saturday, January 14, 2023.
Art that includes nudity, profanity, graphic violence or otherwise inappropriate content for young children will not be considered. 
Participants agree to allow the Resurrection to publish digital files of all submissions both online and/or in print, on its website and/or social media channels, both during and after the festival indefinitely with appropriate credit. 
Participants grant Resurrection non-exclusive rights to use their submissions in ministry, including but not limited to services, events, public displays,  or performances, publications, sites, and programs, without further permission or payment involved, with appropriate credit to the artist(s).

The RezArts Festival will include a gallery exhibit on

Saturday, January 28

, 

at which time submissions will be displayed and presented for the enjoyment of the church family. Visual art submissions will remain on display within the church building until late February. We will also explore ways to include creative works into the ongoing life of the church.
While we will do our best to care for your submission(s), we cannot guarantee the preservation of your artwork in its original form. We also reserve the right not to exhibit any piece we deem inappropriate for a family audience.
Find inspiration, insights, and tips for sparking your creativity in these resources:
By Fellow Rez Members
Other Resources on Art and Theology

Each work must be submitted online via an individual digital file– a Word document, a photo(s) of visual artwork in PDF, JPG or PNG files, or an audio file in mp3. 
Visual art submissions may include up to 4 photos of your visual arts submission, such as a photo of your painting, a pottery work, or a sculpture. However, if your submission is actual photography, then only one photo is allowed.
Visual art submissions of the actual artwork must be delivered to Resurrection in person between January 8 and 15 to participate in the gallery exhibit and should be left at the building until March 1. You are welcome to mount and/or frame your visual art submission for display before dropping off.
Musical submissions must be no longer than 4 minutes, submitted in mp3 files. If you are creating a song, you might choose to submit your lyrics in a Word document. If so, then you may choose to format and print your song on a letter or legal size document. You are welcome to mount and/or frame it before delivering to Resurrection in person January 8 to 15 for display at the gallery exhibit and to remain at the building until March 1.
Include a paragraph of 200 words or less explaining: a) your work, b) your creative process, and c) how your entry reflects the theme in part or whole. 

Questions? Email

dawnjewell@churchrez.org

or

office@churchrez.org
Please complete one form for each submission.